Nature's Way to Clean & Treat Four Different Hot Spots in Dogs
Cleanse  Protect  Rejuvenate
The Madra Mór Experience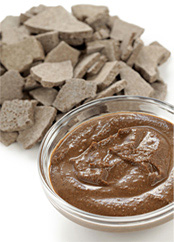 Natural and Organic Mud Bath Treatments To Feed & Hydrate your dogs skin with essential nutrients & essential fatty acids. Canine Itching Remedies by Madra Mór Cleanse, Detoxify, and Heal Naturally and Organically
4 ways to modify any exercise for your needs and goals – your bodybuilding alphabolin bodybuilding, many calabrians at the first edition of the night stars national trophy.
Madra Mór Mud blends fine medicinal clay, rich in silica, potassium, zinc, magnesium, calcium with some of Mother Natures finest. As Madra Mór Mud detoxifies your dog's skin, removing dirt, oils and other toxins, through an ionic exchange, dead skin cells are replaced with nourishing minerals and soothing relief, boosting your pet's ability to fight infections, dry skin, and other irritations that can lead to canine dermatitis. The minerals in the clay stimulate many localized skin responses in your dog that promote healing and tissue regeneration, enhance immunity, and help destroy bacteria that can contribute to yeast growth and odors.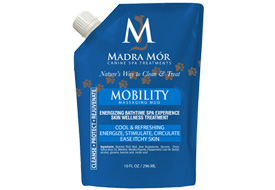 Mobility Mud is infused with peppermint and menthol for penetrating pain relief. Your dog will love the cooling sensation when you massage Mobility Mud into his skin. Menthol is a local anesthetic that simulates nerve receptors in the skin to relieve pain and instantly stop itching. After feeling cooled down from the mud bath, the body restores homeostasis naturally by circulating and generating it's own heat. This treatment gets the blood flowing and flushes the toxins.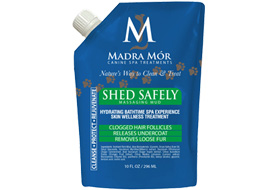 Healthy skin equals a beautiful coat!  If your dog has dry skin, this is the treatment!
Like all Madra Mór dog skin products, Shed Safely Mud is made with fine, nutrient rich, hypoallergenic clay and a line-up of powerful, nourishing ingredients, to form a creamy, mousse like texture: Aloe Vera Whole Leaf Dried Powder, Borage Oil (Omega Fatty Essential Acid), and Rice Bran Oil (Rich in Antioxidants, Vitamin E), Zinc and Allantion. Mother Nature's best ingredients that cleanse, exfoliate,and feed the skin to promote healthy cell regeneration.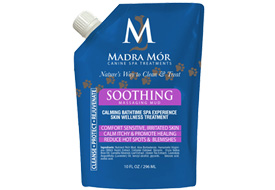 Hot spots, blemishes, irritations and other canine dermatitis conditions cause pain, tenderness and sensitivity.  Where can you find an all-natural soothing relief?  The answer is Madra Mór Soothing Mud, designed to promote healthy skin while combatting canine skin problems such as allergy, sensitive, inflamed, itching, blemishes, tenderness, bacteria, and hot spots.
Soothing Mud uses mineral rich clay with high concentrations of colloidal oatmeal and nourishing, healing ingredients such as organic aloe vera powder, green-tea, lavender, Witch Hazel. These time tested skin care ingredients promote healthy cell regeneration, ease irritation related to itchy and scratchy skin, and rejuvenate the essential lipid barrier.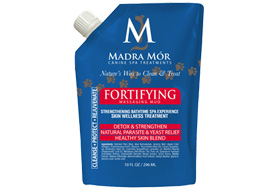 Clean, nourished and hydrated skin is better equipped to ward off undesirable invaders, parasites and environmental pollutants and allergy causing agents.
The line up of detoxifying ingredients that remove undesirables without stripping and adding nutrients and lipids make this an ideal treatment for keeping skin fortified to do the job of protector!!
Give your dog's skin the nourishment to do it's job of protection with fortifying ingredients that strengthen.
Healthy skin equals a beautiful coat!

Blueberry Facial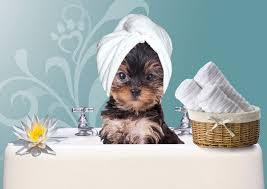 Like a facial but for dogs! We use both the Tropiclean Spa Facial Scrub and the South Bank Blueberry Facial products in our salon. Both products are fantastic at removing dirt and tear stains from the eye area. The products smell fantastic and are massaged into the coat to brighten up, soothe and cleanse the facial area, especially around the eyes. Both products are specially designed for all skin types and the sensitive eye area – did I mention they smell divine?!  (Add $4 to your grooming fee.)